I have to admit, I am having a bit of a hard time not being able to run right now. It's summer time!! Everywhere I go there are people out on the road running and as I watch them it hurts my heart a little. Being in the running blogging community I see many posts, Instagram pictures, etc on training sessions and long runs – same thing. Summer has got to be the worst time of year to be injured. Even people who don't normally run are now participating in fun runs or Ragnar races and I feel like the kid whose parents wouldn't let them to go the party so they sit at home alone.
The other day I was on a hike and a girl was telling me about her upcoming Ragnar race and I told her "You are so lucky!" and she scoffed and said "Lucky?!" to which I replied, "Yes. I can't run right now, so anyone who can is lucky".
I know this sounds like a pity party and you're right – it totally is! I'm frustrated because my injury is not getting any better and I don't know why. I'm frustrated because I can't do my favorite sanity saver. I'm frustrated because I am not happy with the level of fitness my body is currently in and I'm not sure how to fix that without running or jumping or any sort of high intensity. My body responses well to high intensity!
But I know I'm lucky, too. And if you aren't going to be able to "see this girl run" you'll at lease "see this girl be grateful". Well, now that the pity party is over 🙂
Janae is letting me borrow this night splint that she SWEARS by so hopefully it does the trick! The first night I wore it, I had it on way too tight I think because I woke up at 3 am in tons of pain and tore the boot off as fast as possible and then my foot hurt the whole next day. The second night was much more successful.
Janae told me how sexy it is. She did not lie. ha!
I am still able to go for walks and hikes without too much pain or anything. It's not running but it's still something. I'll take it!
Unrelated, but still among the things I'm grateful for:
These college besties of mine who have stayed a big part of my life. We got to hang out at one of their sister's weddings this week and it was the best. (note: I totally could have caught the bouquet but I ducked so I wouldn't. Then it was fought over and destroyed by 2 children. Oops. What is it with me and those bunch of flowers?! It would have been #5)
I received my dessert box from Arctic Zero and have been thoroughly enjoying eating a third or a half carton at a time and knowing the whole pint is only 150 cal. What?! Best ever!
I have a great relationship with  my parents. I went on an overnight trip for my cousin's wedding (technically my dad's cousin…but she and I are only 1 year apart) with them a couple of weeks ago and we had a great time.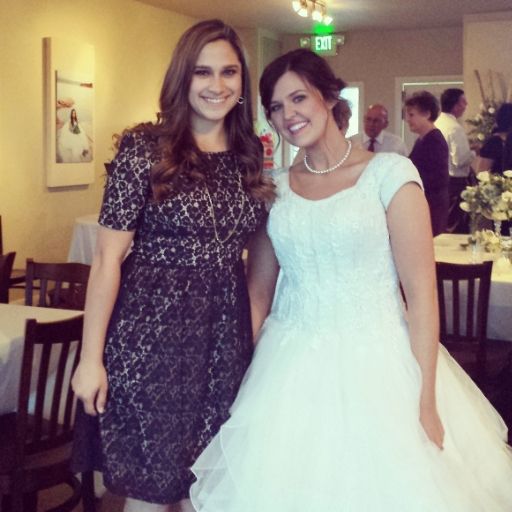 I am surrounded by great people who care about me, opportunities to serve others and take the focus off of myself (necessary! obviously) and chances to develop skills I've always known I had but never did much about.
I really am a lucky girl.
What are you grateful for today?
Any fun weekend plans??