I've talked about my love for barre class before, so you can imagine my excitement when my cute friend Sharsti from Sugar Plum Runner decided to get a group of girls together to go to the studio she's been attending! Hooray!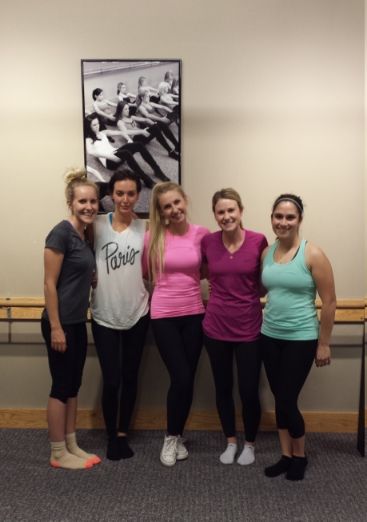 Let me tell you, barre is always a killer workout. Always. But I've actually never broken a sweat…until last night. I was dying! It was hands down the hardest barre workout I have ever been to. And I loved it!
Some things I particularly enjoyed last night were:
Being able to look at Sharsti during a hard move (aka every 30 seconds) and give each other the "Holy crap, I'm dying! When is this move going to be over" face. It really helps to share in the pain 😉
The teacher went around constantly fixing our form and helping us do each move just a little bit better. I really love that!
The teacher was also super encouraging and gave good pointers along the way.
I thought I was getting into good shape and getting stronger. Apparently I was wrong. (ok I didn't love this but I do like knowing I have work to do and someday I can look back and think "remember when that move was hard??")
All of the girls there were such good sports and seemed to be having a good (though painful) time.
Breaking a sweat. Yes, I know already mentioned it but then I KNOW I'm getting a great workout.
Staying afterward and having the teacher give me some personal instruction on a move I had a bit of a hard time with.
I had such a great time and can't wait for the next girls' night! If you want to try them out, head on over to Sharsti's post here for information on how to get your first class for FREE and a discount on future classes.
I will definitely be back. I'm all for a tough workouts.
Hardest workout you've ever done?
Favorite type of workout (non-running)?