Hi friends. It's been a while. I wish I could show you my planner and how jam packed my schedule has been – almost to exhaustion! I get home at night and just the thought of opening my computer to type up a post seems like too much, so other things have taken priority. I'm not sorry, I'm just explaining.
But I'm glad to be back today. I finally had a moment to breath, so I'm sitting on my best friend's couch while she looks for an apartment for her and soon to be husband and I blog. Gilmore Girls is playing and we're halfway paying attention while also having the kinds of conversations only best friends can have. It's awesome.
I've been at my new job for nearly 2 months now and I love it. I thought today I would introduce you to some of the intricacies of my new office.
There's always something interesting going on and every day is exciting. For example: One day there broke out a huge debate on whether or not cursive is still worthwhile to teach while in school. It culminated with an office wide cursive writing competition. I took 2nd place. *brush dust off shoulder*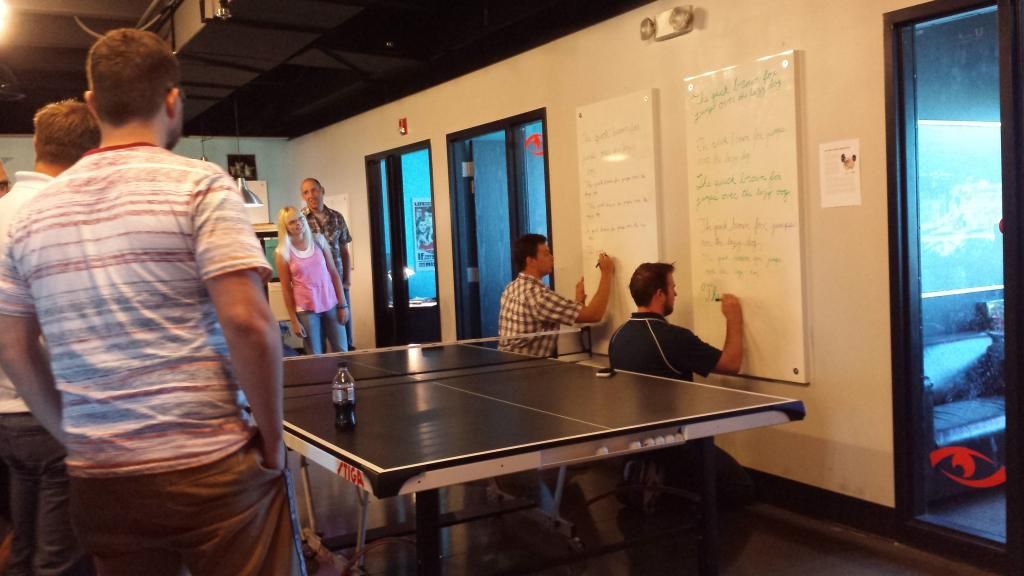 I went from working in an office full of women to being only 1 of 4 out of about 20 people. So sometimes things happen like they bring in their Star Wars toys to decorate the office. Seriously.
We have either push up or planking competitions daily. We are also having a challenge to get in 1500 minutes of exercise in August. If you take out 1 day per week for a rest day, that equals right around 1 hour of exercise per day. We are keeping a running tally of our minutes and it's been really motivating! I'm a competative person and I will meet that goal! So far I'm on track and I've seen awesome improvements in my fitness. I've exercised more at work as a writer than as a health coach. haha
I also have dual monitors again. Life is so good. It's really the simple things.
So that's just a tiny peek into my life at my new job. It's a good place, I really enjoy what I do and the people are great.
I'm a lucky girl.
Does your office do any competitions?
What's your current motivation to exercise?
Tell me something wonderful.