**Note: I was given the opportunity to test the AlterG treadmill free of charge. I received no further compensation. All opinions are my own.**
Tuesday I had the amazing opportunity to test out the AlterG Anti-Gravity Treadmill! What's the Alter G treadmill, you ask? It's a treadmill that allows you to choose the percentage of your body weight that you will hold. Like its name implies, it is an anti-gravity treadmill. How freaking cool is that?!
I headed down to Performance Rehab Clinic and meet up with physical therapist, Dan Mills, MPT. He is the owner of the clinics and he was more than happy to sit with me and explain to me the history and uses of this awesome treadmill. He is also a big time runner (he's gearing up for the St. George Marathon in the next few weeks), so we also had a great chat about running. Gotta love fellow runners!
The AlterG Treadmill was first developed by a group of people who were working on a project for NASA. The project was actually geared toward the opposite of what the AlterG does; they were looking to develop a treadmill that would allow for MORE weight-bearing, so as to allow astronauts to exercise in space. When they decided to see what would happen if they went the other direction, they stumbled upon a treadmill that would allow people who were injured, overweight or otherwise unable to perform at a higher level to still run with much smaller risk of injury and even speed up the rehabilitation process.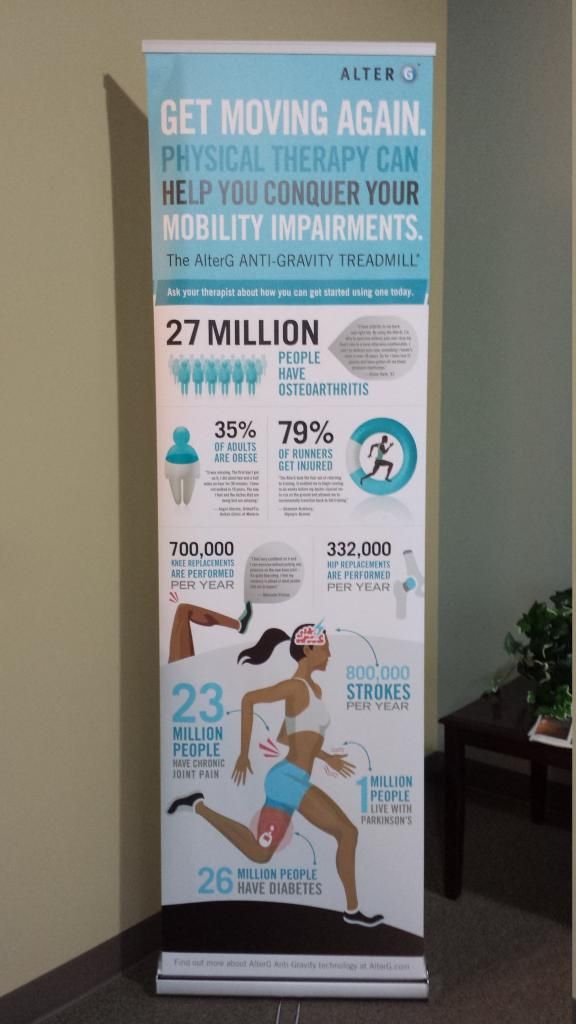 This is the display that was in front of me when on the treadmill. The number on the far left is the percentage of my body weight I am carrying. 20% is the lowest you can go and best simulates walking on the moon! The other numbers are pretty standard to regular treadmills with speed, time, distance, etc. There was also a screen in front of me so that I could see myself running. Dr. Mills was kind enough to watch it and even evaluate my running a little bit. For the most part, I have great form. Hooray!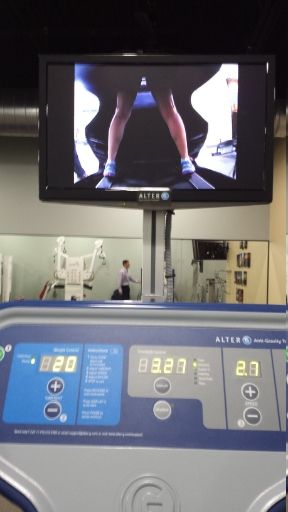 But I am getting ahead of myself! First I got to put on these super sexy shorts with the zipper on the top. This was at the end of my run, so that's why I look sweaty and gross. I was.
I then stepped onto the treadmill and the other half of the zipper was raised to the widest part of my hips. I was then zipped in and the air started to fill the chamber of the treadmill. As it got more and more full and I got lighter and lighter, I started to laugh. It was such a funny sensation! Dr. Mills informed me this is the most common response when a person tries the treadmill for the first time. He said they always giggle!
Then I just got to start running! At first it felt like I was super light but after a while it felt like any other treadmill run. Except, for the first time in months, I was pain free!!! No sign of that nasty plantar fasciitis. It was so wonderful! I got to run a lovely 3 miles, all while chatting with Dr. Mills about running, the AlterG and his upcoming trip to West Africa to fit people for wheelchairs. How cool is that?!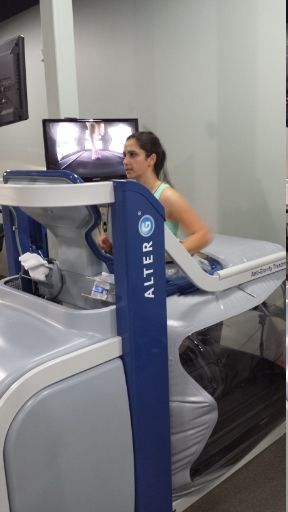 There are other processes that have been used in the past that are similar to the AlterG, such as suspension systems and workouts in pools. However, the AlterG is much more precise and reliable because of the force plates located in the treadmill. As you run and pressure may change, the force plates allow the treadmill to know the change is happening and it can release or add air as necessary to keep the percent body weight selected as constant as possible. It is almost much cheaper in the long run because it doesn't require constant maintenance, like a pool.
All of the elite sports leagues have these treadmills to help their athletes stay healthy and help the injured ones return as quickly as possible. The team at Performance Rehab Clinic have helped many people with their health such as a girl training for the Olympic trials, a girl with Cerebral Palsy who was able to walk unassisted for the first time in her life and a paraplegic man who is trying to regain the use of his legs. This treadmill is truly amazing!
For those of you who live on the Wasatch Front (or nearby!), Performance Rehab Clinic in Cottonwood Heights allows you to come in and try the Alter G Anti-Gravity Treadmill for 10 FREE minutes! If you want to take advantage of this (and trust me, you do!) email me at seethisgirlrunblog@gmail.com. I have 12 vouchers available and I'd be happy to mail one to whoever is interested! If you'd like to get in touch with the folks at Performance Rehab Clinic directly, their number is 801-938-9234.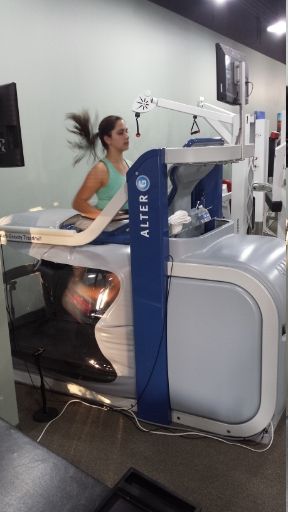 I was highly impressed by the AlterG Treadmill and am actually looking into being able to use it for my recovery from plantar fasciitis. I consider myself very lucky to have had this opportunity and to have found this way to make my recovery possible. Thank you to Dr. Mills and the AlterG crew!
Check it out! You won't be sorry.