Well, I have some sad news…
I'm back to not being able to run. Yeah, it's the worst. So remember how my foot had been hurting since my marathon (in September!)? Well, it was finally on the mend and I was slowly but surely working up my mileage again. I was having dreams of signing up for my next race and being able to keep up with Sharsti on longer runs and life was grand.
Then Saturday happened. Not this last one, but the one before that. I was out on a run, considering doing more than 4 miles for the first time since the marathon when I got to about the 2 mile mark. My leg started to hurt. Uh oh. Not good. Especially since this was an out and back route, so I couldn't take any short cuts home. But I figured it was only 2 miles so I kept running. Within the next half mile, I had to stop and just stand for a while because I couldn't even walk! It hurt soo bad!
I have this little bulge on the distal, lateral edge of my left leg that has been there since high school. I remember asking one of my nurse grandmothers (yes I have more than 1 that fits this description!) about it but since it didn't hurt or bother me, she wasn't concerned…so I wasn't concerned! I ran cross country for 3 years with it giving me no trouble at all. In fact, I went 10 years until the present day without it giving me any trouble! One time in college, it grew during a conditioning class I was in. I thought it was weird, but again, it didn't hurt, so I wasn't worried. Yes, sometimes when I am stretching, I can't stretch that side because it pulls on whatever is going on there and it feels like something is being peeled off the bone or something…but again, it's never done what it did about a week and a half ago.
Then Saturday, it grew into this…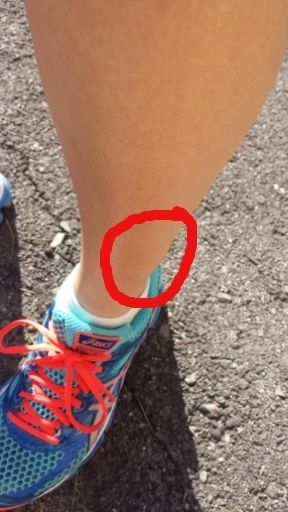 and boy did it hurt! So bad! I was swollen, slightly hard and so painful!
So finally I did the thing that I've been too stubborn to do for over 6 months…It's actually going on 8 months now…I made an appointment with a sports medicine doctor in an orthopedic clinic. I couldn't get in for 3 more weeks, but May 13, I will be there, ready for them to finally tell me what's wrong and why I have been getting worse, not better over the many months. I'm so stubborn. I wish I had gone in months ago. It's a hard lesson to learn, but I'm hoping we'll be able to figure out quickly what's the matter and I can learn how to fix it ASAP!
So that's my update. I'm injured even worse just when I thought I was recovering and I'm not quite sure what's wrong yet. I'll keep you updated, don't you worry.
Until then, I'll keep up other types of workouts and I'll share my life with you. I hope it's ok that this "running blog" won't actually involve much running for a while. (But hopefully not too long!)