Last night I had the opportunity to visit DownEast and play fashion blogger for a night. I have always loved this store, so it was so fun to be hosted by them and look at their new arrivals!
Here are some trends I noticed:
Maxi skirts are in full swing and come in tons of bright colors and patterns. I wanted so many of them!
Pattern mixing is still very much in! And by the looks of it getting even more extreme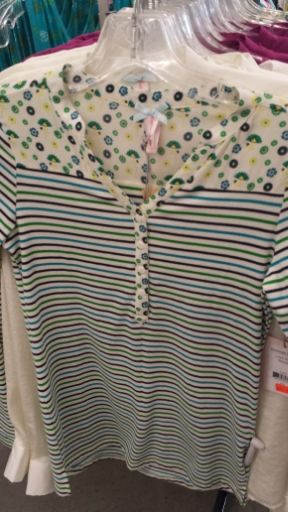 DownEast has tons of cute accessories and even purses now! This may not be new information, but it was news to me! They were all super adorable – it's all about bright colors and fun patterns!
I grabbed some items to try on and these were my two favorites:
This shirt is so darn cute! I have a hard time with sizes at this store sometimes though, so the small was a little too small and the medium was too loose. I need like a small and a half haha Which made me so sad because I really wanted it!
But I did get this gem of a dress – yup it's just one piece but looks like two. Super cute and ohhh so comfy! I may or may not already have plans to wear it a couple of times in the next few days. Oops.
I also got myself a couple of the basics – I wear these on an almost daily basis. So helpful for layering. Love them!!
Now the good news – one of you lucky people are going to win a $25 gift card to spend either online or in their stores!!! Hooray! Enter this Rafflecopter below and I'll announce the winner next Tuesday!
Can't wait to hear what you think of their new arrivals! Good luck!
*****************************************************
Thank you again to the good people at DownEast and Joanie for putting the event together.
Disclosure: I received two $25 gift cards in exchange for attending the blogger event and writing up on my experience. I used one for myself and the second is being used for the giveaway. However, all opinions are indeed my own.