My dad works in the radio industry out here in good ol' Salt Lake, so sometimes I get fun opportunities. Like on Monday, I had the chance to come into their station for a mini-concert and meet and greet with American Authors! Now, you may think you don't know who they are, but trust me, you do. Their most popular songs are "Believer" and "Best Day of My Life".
I had the fun chance to bring two of my friends, Rachel and Shana, with me. When we got there, my dad showed us around the station and introduced us to people. He then took us into the room where the band was doing the sound check. They stopped, looked at us (confused as to why people were coming in), said "….hey!" to which we replied "hey!" and then we left until it was time to go back in.
The room is small, so there's really no bad place but we got to be on the front row and got to enjoy 3 songs from the band. It was so fun!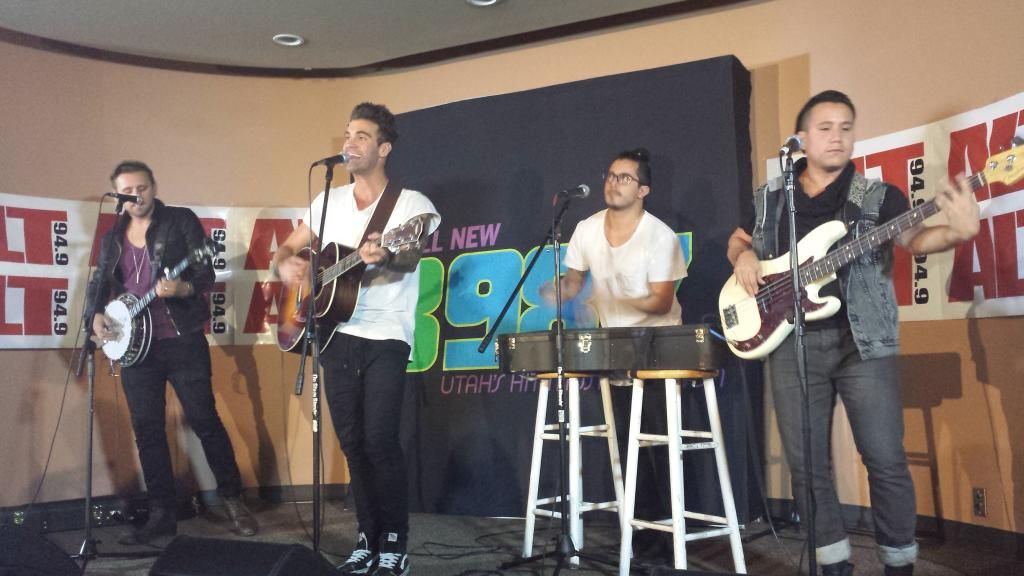 After the mini-concert, we all lined up and got to take pictures with the band. I don't have the picture right now, but if I get a copy of it, I'll update this post with it.
Before we left, my friend Shana realized she knew one of the guys running around, working on things for the band, so she went and talked to him. While they were chatting he asked her if we were going to the show that night. She said no and he offered to put us on the guest list! So later that night, we got to go to their main concert, along with my roommates Laura and Jessica.
It was so much fun! They sound great live and it was just an over-all fun concert.
For the most part, my life is pretty average. But every now and then, fun things happen to me and I love it.